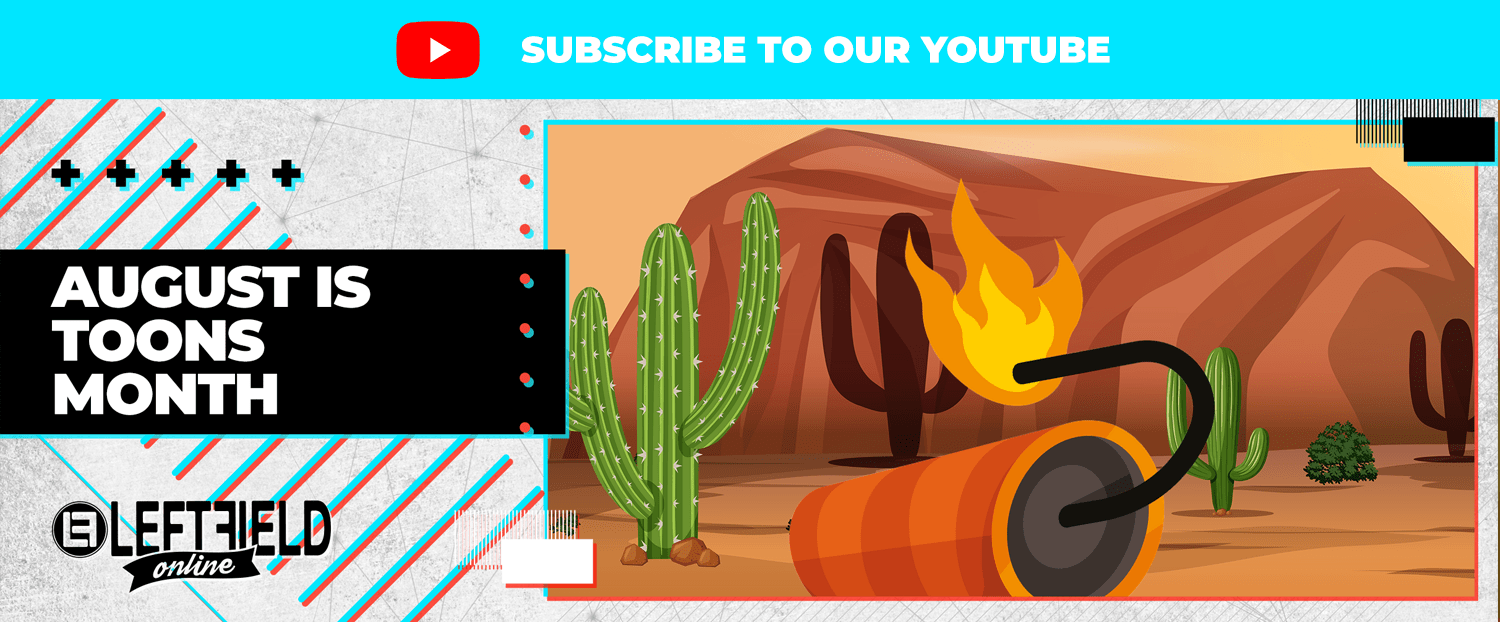 Toon in to LeftField Online
Welcome to Toons month! Did you love waking up early to watch Saturday morning cartoons? Obsessed with all things Nick Toons, Cartoon Network, Looney Tunes, and whatever other animated treasures you could get your hands on? All month long, we'll be saying, "Hellooo Nurse!" and "I tawt I taw a puddy tat." We'll also take a ride in the Mystery Machine and aboard the Planet Express ship. Get ready to tune in… and toon in! Share your joy for all things cartoony this month #LeftFieldOnline.
COMMUNITY
Our community events are happening on our Awesome Con and Rose City Comic Con Twitter, Facebook, and Instagram pages. Make sure to find the links to those in the buttons below!

Which '90s Cartoon Series Are You?
Wednesday, August 5
Take this Buzzfeed quiz to find out, then share your results!
Show Us Your Toontastic Art
Wednesday, August 12
Are you a cartoonist? Whether you're a fledgling or a pro, we wanna see your masterpieces! Share your fanart or original character art on our social accounts and include links so your new fans can follow you!
Toon Cosplay Showcase
Wednesday, August 19
Show off your incredible cartoon character cosplay, whether it be meticulously created or thrown together from your closet!
Classic Cartoon Battle Royale
Wednesday, August 26
Determine the BEST classic cartoon with the help of a giant battle bracket. May the tooniest toon win!
PANELS

Independent Artists: Animating Your Truth
Thursday, August 6 at 10:00 AM PT/1:00 PM ET | Livestreamed to Awesome Con and Rose City Comic Con on Facebook | VOD available after live date on YouTube
A diverse panel of independent animators discuss how they stay true to themselves and genuine in their storytelling throughout each step of their creative process. The discussion will include topics such as the value of working for yourself, raising funds, and working remotely. Ft. Tony Drake, Chaz Bottoms, Daniel Cardona, Xochitl Thienes
Shawn Durington Drawing Workshop and Toons Trivia
Thursday, August 13 at 12:00 PM PT/3:00 PM ET | Livestreamed to Awesome Con and Rose City Comic Con on Facebook | VOD available after live date on YouTube
Join cartoonist Shawn Durington for a live workshop where you can learn to draw Spider-Man! If you've ever wanted to learn to draw, consider this your first lesson from a professional. Shawn will talk about what it's like to be a professional cartoonist, plus do some cartoon trivia throughout. Stay until the end of the program, when he'll be raffling off the original art that is created during the program. Tune in, and toon in!
Star Trek the Animated Series: History, Myths, & Canon
Sunday, August 23 at 2:00 PM PT/5:00 PM ET | Livestreamed to Awesome Con and Rose City Comic Con on Facebook | VOD available after live date on YouTube
Star Trek was left for dead in 1969, after the cancellation of The Original Series. However, even though new adventures of the Enterprise and its crew were not being produced, it remained in the zeitgeist due to syndication and fan-run conventions. As a result, Star Trek became more popular than ever and led to Gene Roddenberry and Filmation Studios continuing the Enterprise's original five-year mission on Saturday morning television. Star Trek: The Animated Series (TAS) was a critical success, airing 22 episodes over two seasons and earning the franchise its first Emmy Award in 1975. The show featured the voices of almost the entire original cast, including William Shatner and Leonard Nimoy, along with TOS writers Dorothy Fontana ("Journey to Babel"), David Gerrold ("The Trouble with Tribbles"), acclaimed science-fiction author Larry Niven, and many more. Join us as we talk about how the show came to be, urban legends that grew up around it, and how the finally recognized as canon adventures influenced every Trek show from The Next Generation to Picard! Ft. Aaron Harvey, Sue Kisenwether, Robert Kline, Rich Schepis
Virtual Voice-A-Palooza
Thursday, August 13 at 1:00 PM PT/4:00 PM ET | Livestreamed to Awesome Con and Rose City Comic Con on Facebook | VOD available after live date on YouTube
VOICE ACTORS BEHAVING BADLY. Join professional voice actors as they reinterpret movie scripts, poetry, songs and more in their character voices, and read the craziest phrases that YOU provide in their character voices. Hosted by Wes Johnson (The Elder Scrolls, Fallout, Phineas & Ferb), get ready to hear your favorite voice actors like you've never heard them before. Joining him will be Jon St. John (Duke Nukem), Ellen McLain (Portal, Half-Life 2, Bee and Puppycat), John Patrick Lowrie (Team Fortress 2, Dota 2), and Samantha Inoue Hart (Final Fantasy: Unlimited, Fairy Tail, Lilo & Stitch 2). This is a can't-miss digital panel that is guaranteed to be hilarious and full of classic cartoon and video game infused moments.

Session 1 – Gibiate Online Premiere
LeftField Media is proud to partner with Anime News Network – the largest English-language anime news site in the world – to present an on-going series of anime events. Tune into Anime News Network Connect presented by Anime NYC to reconnect with your favorite anime creators and companies from across the US and Japan! Our premiere was only available live, but we're able to continue to share Mike Toole's exclusive interview, as seen on the left.

Been missing out on those incredible real-life-up-close-and-personal moments at your favorite con? Same. While we know we're safer separated, that doesn't mean we still can't give you close encounters of the celebrity, comic, and cosplay kind.
Introducing LeftField Online.
Each month, we're curating virtual events around a particular theme or fandom. These online moments will bring you the best of comic con, while we're social distancing. Tune in and geek out during online panels and programming, games and giveaways, community activities, celebrity Q&A's and meet & greets, behind-the-scenes with your favorite artists and creators, and much more.

Don't miss out on exciting opportunities! If you're looking to get in front of thousands of eager and excited fans, then these are the opportunities – you're looking for! LeftField Online events have no travel costs, no hotel bills, and no food expenses associated with them because they're 100% online. Don't miss out – join in on the next big thing happening in the fan event space!
Get more info by connecting with our Sales Team:
Joe Avino, joe@leftfieldmedia.com
Nalani Whatley, nalani@leftfieldmedia.com